VancouFur Guests Of Honor
VancouFur is please to annouce our 2015 guests of honor! We believe that these people exemplify everything that we want to feature in our community and convention.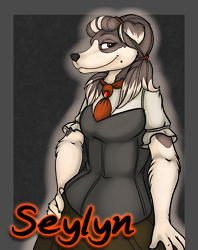 Seylyn
Visit Seylyn here:
Furaffinity.net/user/Seylyn
fluff-buddies.com/
Seylyn hails from the prairies of Alberta and has been happily involved in the fandom since 2005. She is roughly composed of milk tea (20%), pencil shavings (5%), trouble (75%) and topped with a dash of dog.
As a child, she was drawn to animals and 'animal people' with her favorites being werewolves and shapeshifters. Her earlier art featured many fantasy elements and was later more heavily influenced by Eastern comic styles. After being approached by a fur at an anime convention, she joined the local mailing list and let the fuzzy adventure take off from there. She is grateful for all the wonderful friends and people she's met since then.
While most known for her digital artwork, Seylyn also holds a passion for costuming, performance and biology. There's always some sort of creative project stirring in the background, though how many actually get finished is a mystery. She is constantly trying to develop her work and loves learning new techniques & materials in the process.
Her artwork can be found online on several places, including Furaffinity and DeviantArt. She is also co-owner and head designer at Fluff-Buddies, an accessory boutique catered to the fandom.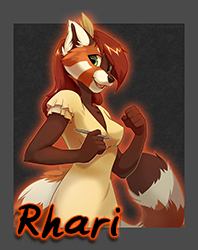 Rhari
Visit Rhari here:
Furaffinity.net/user/Rhari
Community Spotlight Rhari has been involved with the furry fandom since 2002, when she encountered other people who barked back at her in the Edmonton area, where she lived at the time. She relocated to southwestern BC in 2007 and has been involved with various furry-related efforts since then.
As an artist, she has been drawing adorably cute critters since the age of six (her first creations were horse people), and her work has evolved steadily since then. She attended art programs in high schools along the way, as well as the University of the Fraser Valley. She describes her work as "anime meets Disney meets Don Bluth." She shares her work through a variety of methods, from livestreams to online galleries.
Outside of art and her number-one role of mom to one monster, Rhari continues to be involved with the fandom. She has been a member of the Rainfurrest Board of Directors, and has worked with VancouFur to produce art since its beginning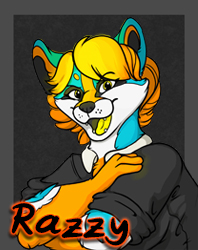 Razzy Lee
Visit Razzy Lee:
furaffinity.net/user/razzylee
furaffinity.net/user/rlworks
My name is Brittany (Razzy) Lee and I'm a Graphic Designer, Illustrator, and Fursuit Maker from the Pacific Northwest. I'm 22 (will be 23 come Vancoufur) and I dabble in just about every type of fine art and digital art form there is. I graduated from the Notthwest College of Art & Design in 2013 with A degree in Visual Communications with a Bachelor of Fine Arts with majors in both Graphic Design and Fine Art.
In 2008, I began costume making for cosplay attending Seattle anime conventions. As cosplay transitioned into fursuit making after joining the fandom officially in 2010, I continued my hobby making fursuits on commission for friends and locals. Over the years this transformed into a successful business that opened many doors. Ive hosted over 20 instructional Fursuit making panels at various conventions since 2011. I've made tutorials on Fursuit making that can be found on YouTube as well.
I have Albinism and am legally blind, but I what vision I have for creativity and the arts. I've overcome many obstacles to pursue my passion for costumes and design.
Being asked to be Guest of Honor at a con like this was a dream of mine and I'm so humbled by this wonderful opportunity. Thank you to all of the Vancoufur staff for always hosting such a clean, well organized, friendly and fun event. I can easily say Vancoufur is my favorite con.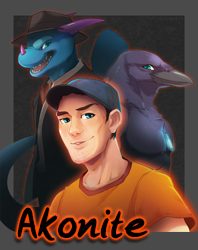 Akonite
Visit Akonite here:
http://furaffinity.net/user/akonite/
Akonite is a local DJ, writer and event organizer as well as the former chair of Vancoufur in 2013 and 2014.
For almost 15 years he has been performing to dance crowds at clubs and festivals across Canada, the USA and Australia. He recently found the furry fandom and has added convention dances to his resume, playing sets at AC, MFF, FC, and RF. He was also the dance lead for Howloween for 5 years, Vancoufur for 2 years, and is currently the dance lead at BLFC and the assistant lead at Rainfurrest. He is proud to have been a founding member of Fur The Record and the head of our local dance event company Electrofuzz.
Apart from music, Akonite is very involved in the writing community. He is an accomplished playwright, having several of his works performed in live theatres across Canada. He also currently has two books published; a children's book titled "Akonite the Dragon and the Monster Mansion" as well as a satirical look at furry in "Bad Furry's guide to the Furry Fandom".
After several years of heavy involvement in the fandom he decided to take some time off from the volunteer work, and is honoured that VancouFur asked him to attend as a guest!