VancouFur 2015 Hotel
Main Hotel
VancouFur will be hosted at the Executive Inn and Conference center!
This year we are please to be returning to the Executive Inn and Conference Center in Burnaby BC! This will be our fourth year at this hotel and we are excited to be returning.
Please note, the main hotel is full.
Executive Inn and Conference Center
4201 Lougheed Hwy.
Burnaby, B.C. V5C 3Y6
Toll Free: 1-800-590-EXEC (3932)
Local Number: (604) 298-2010
Email: info.burnaby@executivehotels.net
http://www.executivehotels.net/burnaby-hotel.php
Room deposits
NOTICE: Executive Hotel is putting the 1 night deposits on all room reservations this week! No show = 1 night charge! You have until 72 hours before check in date to cancel your room to avoid being charged the 1 day deposit mentioned above. If for whatever reason, you need to cancel, now is a good time to do it!
http://www.executivehotels.net/burnaby-hotel.php
Scheduled Shuttled from Accent Inn(Overflow) to Executive Hotel (Main)
Every Day:

9am from Accent to Executive (FIRST OF THE DAY)
11:30pm From Executive to Accent (LAST OF THE DAY)

Friday:

From Executive Burnaby to Accent Inn and Back. With 15 Mts. Stop at Accent Inn
9pm

Sat:

From Executive Burnaby to Accent Inn and Back. With 15 Mts. Stop at Accent Inn
12:30pm
3pm
9pm

Sun:

From Executive Burnaby to Accent Inn and Back. With 15 Mts. Stop at Accent Inn
1:30pm
4:30pm
Party Floor and room parties!
If you want to host a party in your room PLEASE contact hotel@vancoufur.ca with the name on your reservation so we can make sure you are put in the appropriate area!
IF YOU DO NOT GET PUT IN THE APPROPRIATE PARTY AREA, then you will most likely get noise complaints and will get shut down.
So if you want a smooth room party, contact hotel! We have you covered!
Parking
Parking is available at the main hotel at $6.84/day if you have a room, or $8/day if you are not staying at the Executive. Passes can be purchased from the Reception/Front desk. Please do not use the meters, as the discounted parking rate will not apply.
:
Info on how to get to the hotel is below
Current the main hotel for VancouFur is Sold out. Please see below for information on how to book at room at our Overflow hotel.
Overflow Hotel
Accent Inn Burnaby
Hotel Adrress: 3777 Henning Drive, Burnaby, BC V5C 6N5
Room Prices: $105 single or double occupancy, plus 15% tax
Room Types: Two Double beds or one King size bed
For reservations, please call Accent Inn Central Reservation at 1-800-663-0298 and quote group id 64028.
Remember to use group Group ID #64028 when reserving a room
How to Get Here
Walking From the Overflow Hotel
Go east on Henning Dr.
Turn Left on Gilmore
Right on Lougheed Hwy
Remeber you will have to cross Lougheed Hwy at Gilmore to get to the hotel safely
Taxi
Taxi fares from the Airport are estimated at $60 to the hotel and from the Greyhound/Train station Taxi fares are estimated to run about $30.
Skytrain
To get all the details and up to date info on busses and skytrain please visit translink.ca
From the Airport - Fares Startng at 7.75 from the airport, 2.75 everywhere else
Board the Canada Line at the Airport Station (direction are in the terminal arrivals area, second floor)


Travel to the end of the line at Waterfront Station


Transfer to the Expo Line (Follow the signage through Waterfront Station)


Travel on the Expo Line to Broadway/Commercial Station.


Transfer to the Millenium Line, over the walkway and downstairs on Platform 2 (Follow Station Signage)


Exit at Gilmore Station


The Executive Hotel is less than a 10 minute walk from Gilmore Station. Simply make a right as soon as you exit the station and walk to Lougheed Highway. Cross Lougheed Highway and make a right. The hotel is on your left hand side
Map to the Hotel
Click on the map or the link below to see an interactive google map.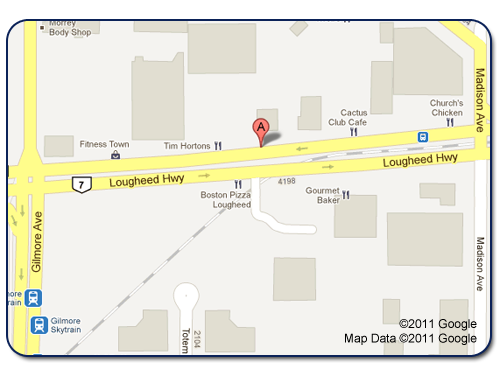 View Interactive Map