VancouFur Dealers Den
Dealers Den applicants have now been selected and contacted! Here is a list of some of the vendors you will see in March.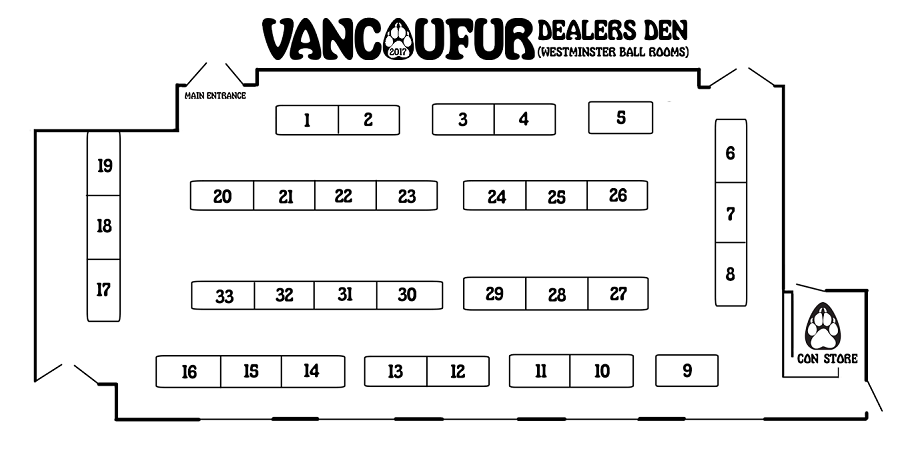 Applications for VancouFur's Dealer's Den are now closed.
Looking for other vending options?
Vendor/Dealer Hotel Rooms
If you are thinking of applying to be a vendor at VF2017, PLEASE BOOK A REGULAR ROOM FOR NOW. You can cancel it later if you cannot come/do not get into your vendors area of choice WITH NO CANCELLATION COST. (This is to ensure that you have a room from the get go because the Vendor Applications will not be available right away.)
Application Requirements
We will need to be provided with the following information to complete your Dealer's Den application:
Desired listing name (For the website/conbook)
Your Tax ID# (not required if you don't have one)
Detailed description of what you intend to sell
Links to your website or hosted galleries with pictures of your products, if possible. Show us what you sell! We would love to know what your wares and table setup look like, if possible, so we can make an informed choice.
A brief biography of yourself
If you are planning on doing a table share, and with whom.
Please note: Dealers from outside of Canada should also make sure that they are in compliance with the requirements to sell their wares in Canada.
Table Pricing and Dimensions
Full table - 6'x2.5' $50CAD
Half table - 3'x2.5' $25CAD
Dealer's Den FAQ
How do I apply for a table?
To apply for a table, you need to fill out VancouFur's Online Dealer's Den application. This does not require any payment of convention attendee fees until after you are approved. You will be sent an email saying that your application has been received. You will be sent a separate email if your application is approved, after which your cart will show you the amount due. Please note that the price for a DD table does not include the price of registration for the convention.
Dealer's Den fees must be paid within 30 days of acceptance, or risk forfeiting the table.
How are tables approved?
VancouFur's Dealer's Den applications are reviewed by a panel of Vancoufur staff and community members in an effort to fill the Den with a wide variety of exciting, diverse merchandise. Judging is based on marketability, theme-appropriateness, uniqueness of merchandise, and number of times the dealer has appeared at VF. While we appreciate and encourage returning dealers, we also think it is important to bring in new blood and display new talent. Three quarters of our tables are filled by the selection committee, and the remaining quarter is filled by a random number generator lottery of the remaining applications.
What happens if I don't get a table?
Dealers who do not receive a table will be put on a waiting list, broken down by their panel score, and then further broken down by time of application.  Wait listed dealers will be contacted for a table as soon as a spot opens up. If no response is received within two days, the table will be forfeited and the next waitlisted applicant will be contacted.
How can I improve my chances of getting a table?
Show off what you're bringing! Links to full art galleries, or websites with lots of photos and examples of your work are very much appreciated. The more information you have for the selection committee, the easier they can see what you have to offer and make a well-informed choice!
Can I request a specific location in the Den?
Unfortunately, we are not able to promise a specific location for your Dealer's table. There is a section for requests in our DD application, such as sitting next to another vendor, and we will do our best to accommodate dealers, but please be aware that there are no guarantees that we will be able to do so.
Is electricity and/or Wi-Fi available?
We will do our best to provide electricity to your table. Please indicate in the online form if you require electricity for your table. There will be free Wi-Fi vouchers given to dealers in our Den; a dealer can purchase additional vouchers for a donation to our charity.
What can I sell in the Dealer's Den?
Vendors must sell only items which they are legally entitled to sell.  Please be aware that if you have pirated, or materials that infringe copyright in an illegal manner we will be telling you to remove the items from your table.
Any material containing extremely violent and/or sexually explicit nature depictions must not be accessible to minors, including literature.
Mature/Adult material must be kept in closed binders/folders that are clearly marked as adult.
Mature/Adult art in progress must be as concealed as possible from public view
Dealers are required to monitor their adult/mature materials to ensure minors are not viewing them and must be aware of the persons behind the person's browsing their materials may be a minor. Adult material in binders must have explicit portions censored.
Dealers found in non-compliance with these rules will first be asked to rectify the problem. If on follow-up the problem persists, the dealer will be ejected from the Dealer's Den.