VF Art Show 2018 New Features
Vancoufur will be featuring the Art Show in its very own room this year! With the extra space we're gearing up to expand our features and here are some of the goods:
Free Half Panels!
To celebrate the Art Show's big return we want to offer artists a free half panel to enrich our community. Any works that sell will still have a 10% commission fee deducted from the total sale.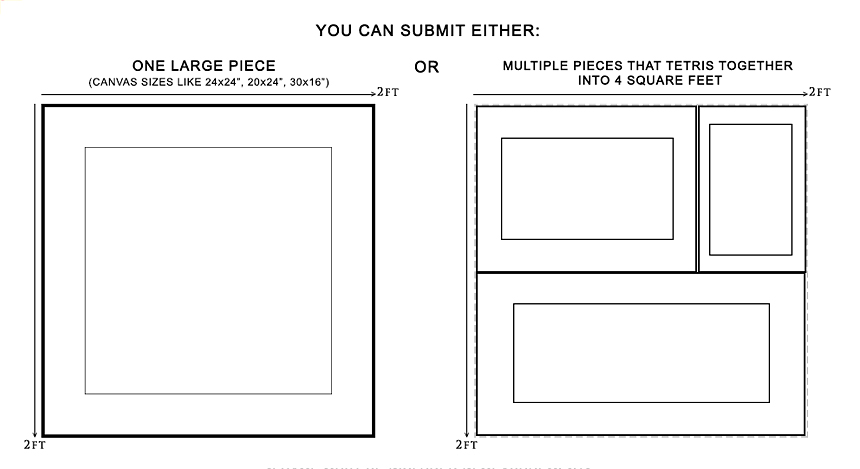 In order to hang properly in a 4 x 2 foot half panel, your total artwork measurements cannot exceed 4 square feet (576 square inches) including the frame. If you are submitting a 1 x 4 foot piece both landscape and portrait formats are accepted. For 3D artwork your piece(s) must fit within a 1.5 x 2.5 feet area with space for an info/bid slip.
You still get a free entry if you are buying extra panels, however if, for example, you choose a free 3D and purchase a 2D panel, there is no guarantee both types of your artwork will be displayed together. There are a limited number of free panels available so be sure to apply early!
Adult Section
We are now accepting 18+ rated submissions! Make sure to read our rules to know what is and isn't allowed.
Judging
Each entrant in the General Audience section has the chance to win Best in Show, Best of Theme, and People's Choice award. Winners will receive prizes and mentions at the Closing Ceremonies!
Rising Stars - 15 and under
We want to give a special spotlight to our younger members of the community with free 1-2 hanging pieces per entrant for the Rising Stars panel. Anyone 15 or younger needs their guardian to register to Vancoufur and apply for the Art Show. All rules including display standards still apply!
Evening Socialite
On Friday or Saturday evening the Art Show will be open exclusively to participating artists, dealers, sponsors, patrons, and Guests of Honor to give our creatives a chance to check out the art show outside Dealer's Den hours and get to know Vancoufur's creative community with complimentary drinks and snacks.