Dealers Den Hours
Friday
10:00am to 2:00pm Registration and Set up
2:00pm to 6:00pm Open For Business
Saturday
9:00am to 4:00pm Open For Business
Sunday
10:00am to 3:00pm Open For Business
3:00p to 5:00p Pack Up

First off, thank you for your interest in taking part of the inaugural Dealers Den at VancouFUR 2012!
Our Dealers Den tables are 6'x18" and cost $40 each.
(we are looking into getting wider tables)
Please follow the below steps to register for your VancouFUR 2012 Dealers Den Table(s):
1) Register with VancouFUR at the Dealers Registration Kiosk.
2) Your application will be reviewed and an email response will be sent. (we are currently looking into if/what licenses/paperwork will be needed so additional information may be requested)
3) Upon receiving an approval email, you will be able to pay for your table and regular con fees at the Dealers Payment Kiosk.
***Note: It is strongly recommend that you send your payment via 'instant' payment method (e.g. Pay Pal).
4) Once payment is received in full, your Dealers Den Table will be secured, and a conformation email will be sent out. Again, thank you for being part of VancouFur's very first Art Show!!
-mediar
VancouFUR 2012 Dealers Den Coordinator
2012 Dealers Map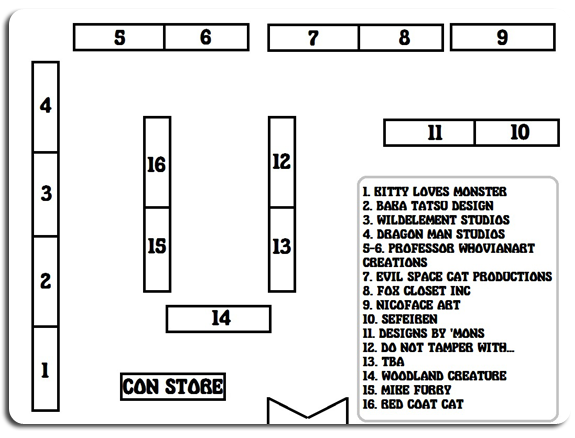 2012 Dealers
Kitty Loves Monster
Baka Tatsu Design
WildElement Studios
Dragon Man Studios
Professor Whoviantart Creations
Professor Whoviantart Creations
Evil Space Cat Productions
Fox Closet Inc.
Sefeiren
Nicoface Art
Designs by 'Mons
Do Not Tamper With...
TBA
Woodland Creature
Mike Furry
Red Coat Cat