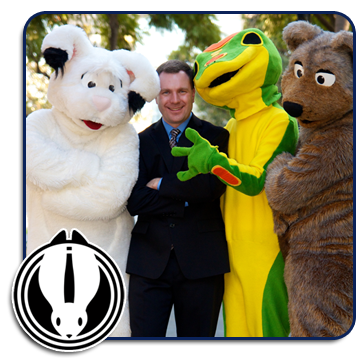 Find Thumper online:
Furafinity
Website
Thumper has been a furry since 1996, a fursuit character performer for over 15 years and is best known in the Furry Fandom as a charismatic performer both in Fursuit and as a DJ. A frequent guest of Vancouver BC, Thumper has made the 300 mile trek from his home in Vancouver Washington up to Vancouver BC nearly 150 times since 2000. Most of Thumper's visits have been in support of local community organizations in the Vancouver BC area as a member of the Helping Pawz Association of which he has been a member since it was founded in 2003.
We are pleased to honor Thumper's commitment locally as well as his joyful and faithful service to the Furry community for many years. Thumper has 'unofficially' served as an impromptu staff member, volunteer and panelist at several major Furry conventions such as Rainfurrest, Further Confusion and the MidWest Furfest, participating in and leading dozens of panels and fursuit events.
We a proud to be the first to "Officially" welcome Thumper as VancouFur's inaugural Guest of Honor. Please join us March 9-11, 2012 to meet this humble contributor to the Furry Fandom and learn more about this unique performer, DJ, pilot, skydiver and perhaps most importantly, energetic white bunny rabbit!